Welcome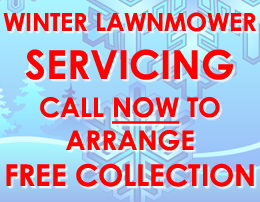 Morley's specialists in lawnmower and ride on tractor repairs and servicing.
With over 30 years technical experience and access to the full range of spare parts from all the lawnmower manufacturers, we are ideally placed to repair and/or service your lawn mower or ride-on tractor. Our workshop is equipped to the highest standards and we guarantee a fast turn around of your mower - in fact we guarantee to have it back with you before the next cut is required!
If you have noticed your mower is not performing as it did when you first bought it, the chances are it need servicing, if it's not working at all, of course it needs fixing - we can do both at very competitive rates.
We service and repair commercial lawnmowers too in our workshop.
Sports club lawnmower repairs and servicing are our speciality:
• Cricket Clubs
• Football Clubs
• Rugby Clubs
• Bowling Greens
• Golf Clubs
Call us today free on 0800 542 0976 to arrange free, discretionary, collection and delivery of your lawnmower or ride on mower.
We look forward to getting your lawnmower back to peak performance very soon!